Product name: ZMD fluorine plastic self-priming Magnetic pump,ZMD pump,ZMD self-priming magnetic pump
Working temperature: -20℃ to 100℃,above this temperature,please contact us.
Working Conderation: Strong acid corrosion,if alkaline,please contact us.
Application:
Wildly use on safe transport area of acid, alkali, toxic, flammable and explosive liquid ,or pure/expensive chemical medium, is the best energy saving products in chemical area.
ZMD self-priming magnetic pump is the perfect combination with magnetic pump. Using magnetic coupling dynamic seals, does not exist. So thoroughly that can eliminate the general shaft driving centrifugal pumps running,the shaft seal leakage phenomenon. And has good self-priming function. zmd pump manufacturer is haina pumps flow components USES corrosion resistance fluorine material. So widely used in pharmaceutical, foodstuff, alkali manufacturing,printing, coating, etc and inflammable, explosive,toxic, and volatile organic solvent and precious liquids.
Operating temperature: -20℃~100℃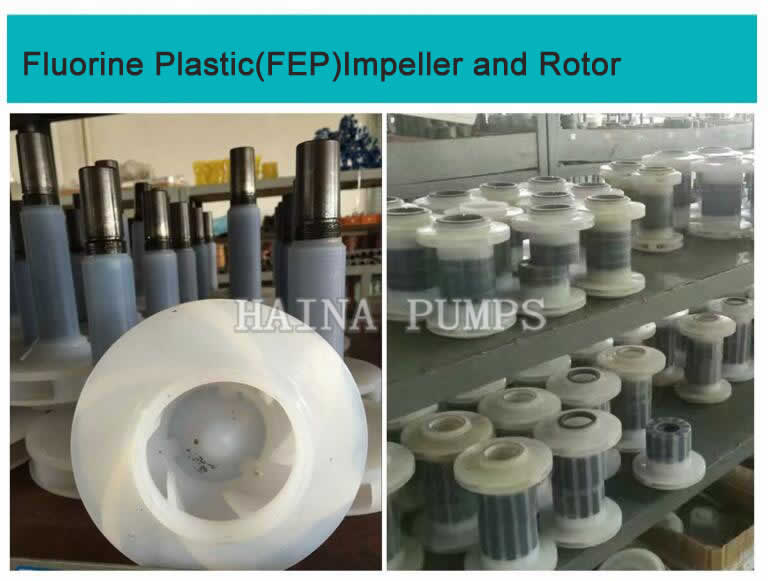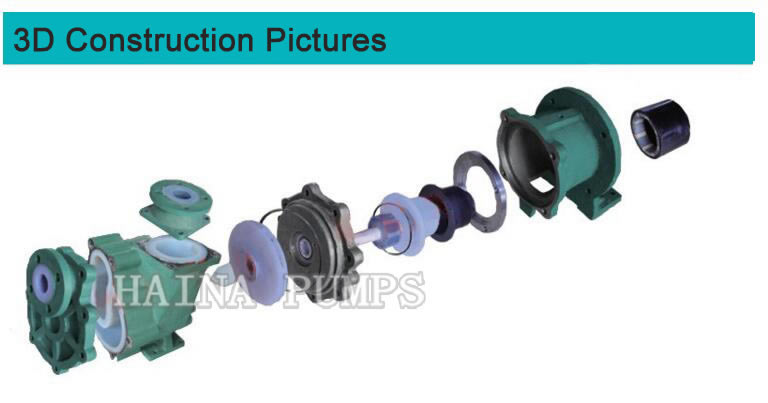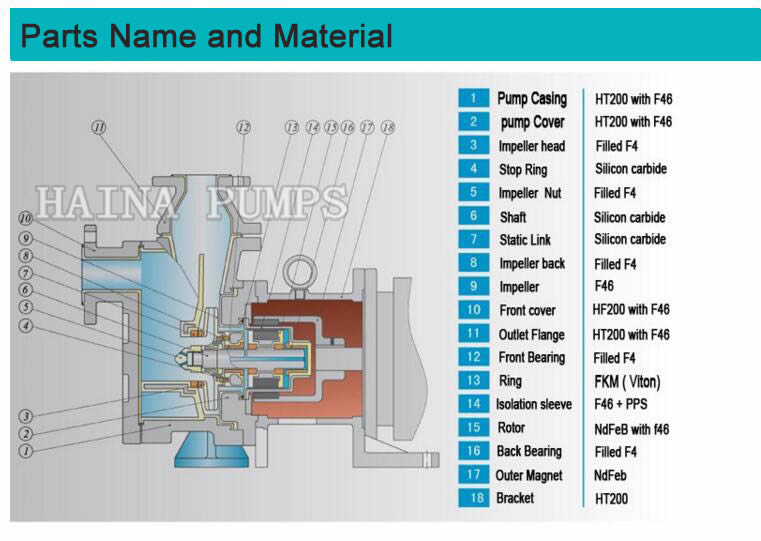 ZMD self-priming magnetic pump parameter table
No.:
Model:
Flow
Head
Efficient
NPSH
Inlet/

outlet

Self priming height
Self priming time
Speed
Motor Power
Weight
(m3/h)
(m)
%
(m)
mm
m
s
(rpm)
KW
KG
1
32ZMD-25F
3.6
25
55
4.0
32X25
1.5
<150
2900
2.2
65
2
40ZMD-32F
6
32
46
3.0
40X25
3.0
<150
2900
4
125
3
50ZMD-32F
15
32
44
3.0
50X50
3.0
<180
2900
5.5
180
4
50ZMD-45F
12.5
48
53
3.0
50X50
3.0
<200
2900
7.5
170
5
65ZMD-32F
30
32
52
3.5
65X50
3.0
<200
2900
7.5
200
6
65ZMD-45F
25
45
52
4.5
65X40
3.0
<200
2900
11
290
7
80ZMD-32F
60
32
55
4.5
80X65
3.0
<200
2900
11
280
8
80ZMD-45F
50
45
50
4.5
80X65
3.0
<200
2900
18.5
320