Magnetic drive centrifugal pumps is made up of three: pumps, magnetic coupling, motor parts.Key components magnetic coupler by the outer magnetic rotor and inner rotor and not of permeability of sleeve.When the motor drives the outer magnetic rotor rotating magnetic field can penetrate air gap and the magnetic material, magnetic drive is connected with the impeller in the rotor synchronous rotation, realize the power out of contact, the dynamic seal into static seal.Due to centrifugal pump shaft, the inner magnetic rotor pump body, isolation sets of completely closed, so as to thoroughly solve the problem of "run, run, drip, leak", eliminates the oil refining chemical industry flammable, explosive, toxic and harmful medium through the pump seal leakage of potential safety problems, effectively guarantee the staff's physical and mental health and safety in production.
Magnetic drive centrifugal pumps maintenance
1. The ban on idling running
Because once the lack of liquid running magnetic drive pump, the pump cavity of the sliding bearing will lose lubrication under the condition of high speed rapid wear.Cutting the heat generated by the magnetic field in magnetic rotor magnetic eddy current is enough to make the magnet demagnetization.Although some magnetic drive pump factory boasts its magnetic pump ability idling, actually has a premise, that is resistant to idle time, can only be empty for 3 to 5 minutes.
2. The ban on long closing valve operation
When the flow is close to zero value, power is not needed for the impeller is 0, the impeller on the resulting power will be converted to heat, so as to vaporize.Follow the bearing temperature wear and high temperature demagnetization rotor and isolation sets of friction.
3. Avoid cavitation
Casual line, transmission medium level changing, medium temperature will change the pump NPSH effectively, easy to produce cavitation.In a very short period of time, can cause magnetic pump cavitation scrap.
4. The ban on extreme flow conditions for a long time running
Magnetic drive pump within the principle of flow operation, and can lead to high bearing load.
5. It is strictly prohibited to more than the rated temperature difference
Magnetic drive pump in use process to regularly monitor the temperature change, must not exceed the rated temperature.
6. To avoid thermal shock
General centrifugal pump heating or cooling rate is not greater than 10 degrees c/min.
7 after priming start magnetic pump
Magnetic drive pump before the operation, need to pump cavity filling liquid, in order to achieve to the best of the effect of the air.
8. May not reverse
The turning of the magnetic drive pump should be consistent in the pump body nameplate marking, inversion of easy burning motor.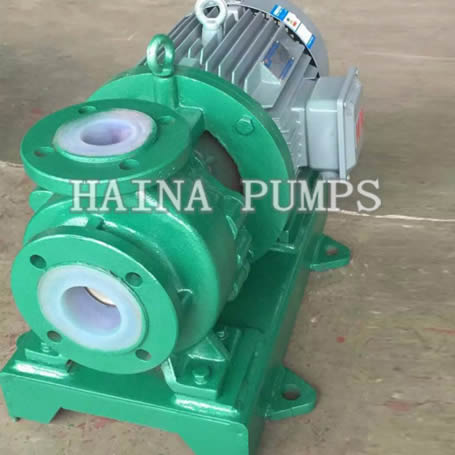 Welcome to the magnetic drive centrifugal pumps page, please contact us!